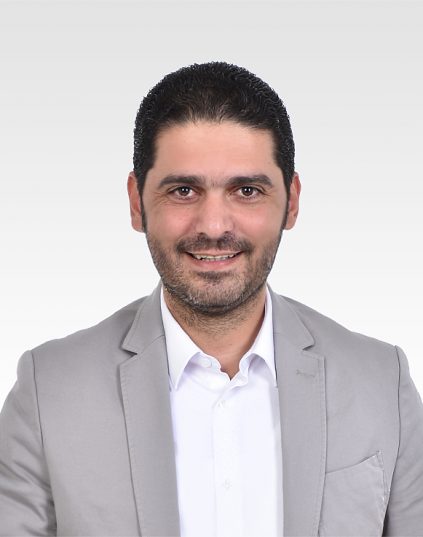 Click the video below for sign language
Assist. Prof. Dr. Ahmet Savaşan
Ahmet Savaşan was born in 1977 in Nicosia. He completed his primary, secondary and high school education in Nicosia. Savaşan obtained his BA diploma from the Near East University, Faculty of Engineering, Department of Electrical and Electronics Engineering in 1999; the same year completed the Secondary Education Teacher Training Program conducted by the Institute of Educational Sciences. In 2004, he was conferred upon his master's degree from the Department of Radio, Television and Cinema NEU Institute of Science and Social Sciences. In 2017, he completed his PhD at the Near East University Institute of Educational Sciences, Department of Educational Administration, Supervision, Planning and Economics.
Ahmet Savaşan, who started his professional career in 1999 as the Deputy General Manager at the Near East Tourism and Travel Operations, has been involved in many projects for the development of TRNC tourism and made efforts for bringing in and introducing alternative tourism types into the TRNC such as the congress and health tourism.
Having managed the organization of more than 100 national congresses, conferences and meetings to date, Savaşan also has made a significant contribution into the promotion of the TRNC throughout the international platforms. Ahmet Savaşan, who has been granted many awards for his activities both nationally and internationally, has conducted many studies for development of Health Tourism as well as raising national consciousness on importance of tourism and health tourism for the country. Ahmet Savaşan, who also served as the General Secretary of the Turkish Cypriot Tourism and Travel Agencies Association, Member of the Audit Committee of the Turkish Cypriot Airlines, Founder Head of the Near East University Tourism Research and Development Center and General Director of Near East Tourism Operations (2002-2018), also contributed to various law drafts.
As the first teaching member of Cyprus giving lectures on Health Tourism since 2015 at the Faculty of Health Sciences of NEU in Northern Cyprus, he is currently continuing his academic studies as a lecturer at the Near East University. Ahmet Savaşan also contributes to the training of qualified labor force in the field of health tourism.
He is currently a member of the Board of Directors of Near East University Hospital. Ahmet Savaşan contributed to the establishment of the Cyprus Healthcare Travel Council in 2015 and assumed the founding presidency and then assumed a decisive role in making the council the 54th member of the World Health Tourism Council on behalf of the TRNC. In February 2018, he was elected as the Vice President of World Health Tourism Council, following the membership of the Board of Directors of the World Health Tourism Council on behalf of the TRNC at the World Health Tourism Forum held in Amman, the capital of Jordan. Ahmet Savaşan was the Project President at the Health Tourism Development Project aiming the preparation of the North Cyprus Turkish Republic Health Tourism Master Plan. Savaşan is married with a child.